The
netUpdate
is a program capable of
updating
&
upgrading
Sumex1 modules over the Internet.
Overview
Ever asked yourself how all these tariff catalogs, COM modules, XML schema files and documentation are kept up-to-date?

The netUpdate package is an optional part of the Sumex1 installation and allows for an automatic update-on-demand for all supported modules including tariff databases at the end-user's premise.
Architectural blueprint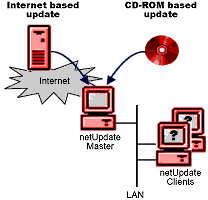 All hosts in a LAN are updated in the same sweep by using a interprocess communication. The latest updates are searched on the fly using an existing internet connection. Once installed the netUpdate package can update itself thus always being recent.

The netUpdate package is copyrighted by TMR AG and not part of the regular Sumex1 modules.
Keyfacts at a glance
Version 100
Last update:
Tuesday, 17 May 2005 - 08:50:58
Module version/date:
1.00.002
5 Nov 2004
Interface version/date:
1.00
28 Apr 2003
Covering:
XML schema 1.00 from 28 Apr 2003
Manuals
The netUpdate developer manual as well as the application manual are available in PDF format
Download area for netUpdate related files
Date
Version
Description
17.05.05
1.00.002
netUpdate installer including all bug fixes
Download netUpdate installer (2.6 MB)
Revision history

Bug fixes

Actions for developers: implement Actions for end users: install
show older builds ...
28.04.03
1.00.001
netUpdate installer - initial version
Revision history

Initial version of the netUpdate application

Actions for developers: none Actions for end users: install